Deontofi.com mostly publishes articles in French but we would be very happy to share our information with international readers. Some stories written in English are gathered here and others can be provided on demand, from existing French material, or produced on purpose for specific inquiries, upon request.
Deontofi.com, 1st French média for a clean finance

Deontofi.com, first French media dedicated to a « cleaner finance » (meaning ethical, not greenwashing), proviudes its readers with relevant information and analysis on many topics involving compliance issues, from retail banking and investment products, to regulation issues and

coverage of financial lawsuits

.

Most public safety articles for consumer protection are free, but Deontofi.com also offers two types of subscriptions for individuals and professionals , providing access to privileged articles and services.

Deontofi Advisor, is designed to help retail investors with articles on how to avoid bad investments and make a better choice among mainstream financial products. This subscription allows retail investors to ask for a second advice by Deontofi on investment sollicitations. It is offered at the most affordable subscription price of €48 annually.

Deontofi Pro, is designed to help financial and compliance professionals with articles on compliance issues and insights from his author on retail finance and regulation issues. This subscription allows professional readers to ask for confidential comments and insights by Deontofi on their field, products and services. Also this service allows professional subscribers to publish on Deontofi.com as other French national newspapers allow such practice to premium subscribers of their online publishing press service (conditions apply, no fake news allowed). Deontofi Pro is priced at €1,800 plus tax annually (€1,831.80 including VAT at 2.1% on press services).

Most articles on Deontofi.com are written in French, but Deontofi founder Gilles Pouzin can provide financial stories in English or translation of past articles on demand. He also maintains a small English Section gathering 20+ years of free-lance contributions to Investment & Pensions Europe magazine (IPE.com).

See subscription plans here:

See Gilles Pouzin, financial journalist, bilingual bio here:

Read a sample of English articles below.
It will take decades before the world political and business leaders agree on broad and more comparable eco-accounting standards, just like it took decades to build the US GAAP (Generally Accepted Accounting Principles) and the International Accounting Standards adopted by many other countries, before their convergence through the International Financial Reporting Standards (IFRS)
More Energy Transition innovation stories in English :
– 05/02/2020 – Immobilier [each week, l'Express translates one of its articles in English, also available in audio format. Une bonne occasion de progresser dans la langue de Shakespeare, à l'écrit comme à l'oral]
English stories by Gilles Pouzin for Investment and Pensions Europe IPE.com
En Marche for pension reform May 2018 (magazine) By Gilles Pouzin • President Emmanuel Macron's promised pension system reform is a work in progress
Agirc-Arrco: Towards a unified regime May 2017 (Magazine) By Gilles Pouzin • A two-sided reform appears to have saved Agirc-Arrco, which is soon to become a unified regime, writes Gilles Pouzin. But the new national president will lead the direction of further reforms.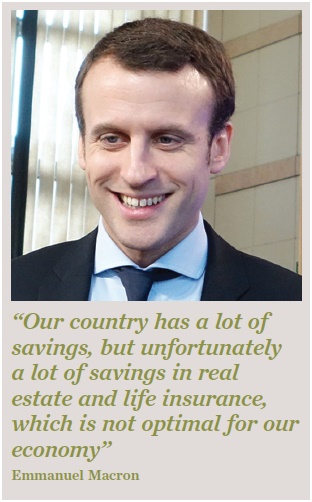 SME Lending: Finance funds for business May 2016 (Magazine) By Gilles Pouzin. • The government is supporting a new fund designed to funnel institutional assets to small and medium-sized enterprises. • Until recently lending in France was restricted to banks and credit institutions. • Institutional investors are increasingly investing in loans.

France's first-pillar pensions: Embracing the last resort May 2016 (Magazine) By Gilles Pouzin. • The recent Agirc-Arrco agreement was designed to overhaul the second-pillar pensions scheme. • From 2019, there will be a 10% cut in pension payouts during the first three years of retirement, even for those with a complete record of contributions (43 years). • The Agirc scheme for executives will merge with the employees' Arrco scheme in a new unified regime by 2019.
France's Agirc-Arrco: Reform of last resort May 2015 (Magazine) By Gilles Pouzin. French public finance magistrates have stressed the urgency of reforms to France's main private sector supplementary regime, Agirc-Arrco…
Agirc-Arrco: Opening closed shops May 2015 (Magazine) By Gilles Pouzin. Restructuring the supplementary pension schemes will see greater centralised management and the increased use of passive strategies.
France's Novi fund targets liquidity May 2015 (Magazine) By Gilles Pouzin. This article outlines the concept behind the Novi fund, the latest institutional investment vehicle offering equity and loans to smaller French enterprises. "French industry has a future and this future presupposes investments," President François Hollande said…

Agirc-Arrco reviews strategy ahead of expected fund manager reshuffle 14 October 2014 By Gilles Pouzin. French second-pillar pension fund Agirc-Arrco has reviewed its investment strategy ahead of a likely asset-management reshuffle, as economic and demographic constrains weight on retirement. Agirc-Arrco's financial committee is set to review the findings…
France: Larger mandates on the cards May 2014 (Magazine) Gilles Pouzin assesses the latest Agirc-Arcco reforms and the ramifications for asset management. One more predicament has hit Agirc-Arrco, the French compulsory second pillar pay-as-you-go (PAYG) retirement…
France: SME cash lifeline gains investors' attention May 2014 (Magazine)
Cash-starved French SMEs are being offered competitive financing through an initiative led by Caisse des Dépôts that also provides insurers and pension funds with relatively safe income assets..
Agirc-Arrco awards Russell transition management mandate Fri, 10 Jan 2014 By Gilles Pouzin
Paris Court verdict on Cref criminal trial set for April Tue, 7 Jan 2014 By Gilles Pouzin
National Assembly approves reform of French retirement system Fri, 20 Dec 2013 By Gilles Pouzin
Second-pillar reserves to dry up at France's Agirc despite reforms Mon, 16 Dec 2013 By Gilles Pouzin
Pension funds worldwide queue up to sue Vivendi in Paris Thu, 5 Dec 2013 By Gilles Pouzin
France: Déjà vu for Agirc-Arrco May 2013 (Magazine)The March 2013 agreement on Agirc-Arrco retirement reform is a relief for asset managers, and could staunch years of withdrawals by 2014, says Alain Lémoine (alias Gilles Pouzin). The March 2013 agreement on Agirc-Arrco retirement reform…
France: Agirc-Arrco reserves will be saved May 2013 (Magazine) Patrick Poizat, board member of GIE Agirc-Arrco and of Agirc federation, tells Alain Lémoine of his optimism about the future of the fund following reforms in March Patrick Poizat, board member of GIE…
France: Hope beyond the figures May 2012 (Magazine) Gilles Pouzin (under pen name Alain Lemoine) assesses some important implications for pensions and institutional investment in an election campaign notable otherwise for its silence on retirement issues Alain Lemoine assesses some important…
France: The impact of a shorter horizon May 2011 (Magazine) Gilles Pouzin (under pen name Alain Lemoine) makes a gloomy assessment of the wider impact on French pensions reform and funding of the decision to drawdown on FRR …
France: Reforms on the starting line May 2010 (Magazine) Reform to the French social system is less politically unacceptable than it was a few years ago, writes Alain Lemoine …
Missed opportunity March 2009 (Magazine) Employee savings plans could have been the next big thing in French financial services but they have failed to take off. Gilles Pouzin (under pen name Alain Lemoine) examines why Employee savings plans could have been the next big thing in French pensions…
Coping with stress March 2009 (Magazine) Life insurers are France's largest institutional investors. Gilles Pouzin (under pen name Alain Lemoine) assesses how they are responding to the current crisis Life insurers are France's largest institutional investors…
French big four set up joint DC admin platform March 2006 (Magazine)Four of France's biggest asset managers – AXA France, BNP Paribas, HSBC France and Société Générale – have set up a joint venture to administer around four million employee defined contribution…
Four firms in French DC venture February 2006 (Online) FRANCE – Four of France's biggest asset managers – AXA France, BNP Paribas, HSBC France and Société Générale – have established a joint venture to administer roughly four million employee defined…
Strauss-Kahn in pensions drive March 1999 (Magazine)France will have an 'appropriate' retirement funding system by the turn of the century, which will contribute to the 'mobilisation' of national saving and the defence of French business, Domique Strauss-Kahn,…
Euroland won't be built in a day February 1999 (Magazine) The whole Euroland bond market is worth an estimated E6trn (the US is $11trn) and France is only 24% of that pool, but this doesn't mean that French institutions are rushing to re-allocate 76% of their bond…
Promise in the east December 1998 (Magazine) Charles Brady, chairman of Amvescap, talks to Gilles Pouzin What is your strategy in Europe? We have $260bn under management, of which $50bn is managed for international clients, essentially in Europe. It's still a minority…
Managers steady as volatility hits FRANCE November 1998 (Magazine) The summer market storms are becoming more and more seasonal, but nevertheless, they still take everybody by surprise. Even the money managers, who have many options to hedge their investments…
French talks to resume September 1997 (Magazine) After being elected on the promise of scrapping right-wing liberal reforms, the French socialists are softly shifting to a more pragmatic stance. The privatisation process is the first illustration of this, but the pension…
Thomas law to die – long live reform July 1997 (Magazine) That the tangled birth of French pension funds could be heading for a miscarriage is the most common fear amongst market watchers after the socialists won the French general election. The Thomas law – named after…
The tangled birth of the French pension fund system April 1997 (Magazine) The new law has passed most legal hurdles, but is the demand really there? Gilles Pouzin reports. Social unrest has not stopped the introduction of France's new private retirement system, but the…
Note to foreign editors : interested in these stories, please contact the author if you want an original script of these hearings in Paris court, as Mr Bronfman spoke in English, and the French articles are based on the author's translation of his English written notes. Translating from French back to English entails a risk of confusion with the original words.
Copies and republishing of any content without authors' written consent is prohibited and subject to prosecution